QR Codes
With mobile web browsing growing at an amazing rate, business owners are trying to find ways to cater to this segment. Mobile websites combined with QR Codes are the way to go.
QR stands for "Quick Response" and they do what the name suggests. When looking for potential customers, you dont want them to have to remember to look you up when they get in front of a computer. You want them to access your information right there on the spot. QR codes are 2 dimensional bar codes that when scanned by a mobile phone, can serve up basic information or launch a mobile-friendly website to help you promote your message.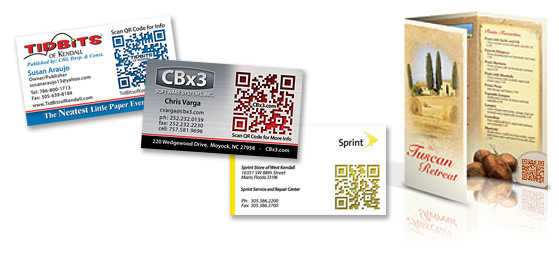 Many major companies are using QR codes to brand and advertise such as Walmart, OnStar, Best Buy, Starbucks, Ralph Lauren, Pepsi, and many others.
WOAH! This is too hi-tech for my customers!
Actually, although fairly new in the U.S.A., QR codes have been in use in Japan and Europe for over a decade. Developed by a subsidiary of Toyota in 1994, any phone equipped with a camera and internet access can scan a QR. You can find compatible scanners for your phone or you can simply snap a picture of a QR and send it to 43588 to get back a link.
Take a minute to see how QR Codes are being used today: